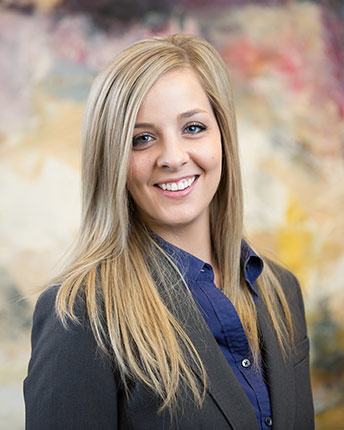 Erin D. Larsgaard
(701) 235-5515
500 Second Avenue North
Suite 400
P.O. Box 1680
Fargo, North Dakota 58107

Professional Experience
Although Erin is not originally from this area, she has a long history at Wold Johnson, P.C. While attending college at Minnesota State University - Moorhead, Erin began working at WJPC as a runner. After graduating summa cum laude with a Bachelor's Degree in Paralegal in three years, Erin was promoted to a paralegal position with WJPC.
After a year as a paralegal, Erin went to law school with a full scholarship to the University of St. Thomas School of Law in Minneapolis, Minnesota. However, she continued to work at WJPC on weekends and during breaks, as well as at St. Thomas for Professor Gregory Sisk as a Research Assistant.
During law school, Erin also served in a variety of law school roles, including Student Government President and Publications Editor for the University of St. Thomas Law Journal. She was on the Dean's List each semester of her three years in law school and received the Dean's Award for the highest grade in Lawyering Skills I, Lawyering Skills II, Property, Lawyering Skills III, Professional Responsibility, Civil Procedure II, and Evidence. In addition, Erin completed a judicial externship with Magistrate Judge Becky R. Thorson for the District of Minnesota. Knowing the great work environment that awaited her, Erin was thrilled to return to WJPC upon graduating summa cum laude with her Juris Doctor from St. Thomas.
Erin's developing practice is focused on estate planning and probate; she also works in real estate, collections, and corporate and business. She is currently licensed in Minnesota, North Dakota, and the United States District Court for the Districts of North Dakota and Minnesota. Erin currently serves as Board Member for CCRI and as a Member at Large on the Leadership Committee of the Fargo Moorhead West Fargo Chamber Young Professionals Network. In 2019, the Fargo Moorhead West Fargo Chamber honored Erin with the Young Professional of the Year Award.
When she is not at work, Erin enjoys spending time with her family and working on her house in Horace with her husband, Matthew Larsgaard.